Kitchen Knife King is completely reader-supported. When you buy via the links on our site, we may earn an affiliate commission at no extra cost to you.
The electric knife has gained popularity in recent years; used typically by butchers and the occasional chef, electric knives have now made their way into the everyday home kitchen where avid homes cooks can now benefit from this awesome kitchen gadget.
Cutting large cooked meat like turkeys and hams becomes less laborsome when using an electric knife. Not only is the cutting process a whole lot easier, but the cuts are also more even, cleaner, and consistent. You can also use an electric knife to cut frozen meat, which makes cutting portioned steaks a whole lot easier. Do you love your homemade bread, well there's even an electric knife for cutting bread too.
With so many electric knives to choose from, with quality ranging from professional grade to just about barely usable, we've put some of the top contenders through their paces and narrowed down the list to the brands that are up to the job. You should be able to easily find the best electric knife for your home kitchen because we've done the hard work for you.
What to Look For When Buying an Electric Knife?
Before you make your final decision you have probably noticed that there are two types of electrical kitchen knives; cordless electric knives and those that come with electric cables attached (corded).
Each has their pros and cons. For example, if you're going to be cutting a lot of meat the cordless electric knife probably isn't going to be the best choice due to the limited battery life, let's take a closer look at some other examples.
Cordless electric knife or Cord Powered
Having no power cord means you have the freedom to take your electric knife wherever you want, from the kitchen to the dining table to carve in front of your guests or even outside to the BBQ.On the other hand, a cord-powered kitchen knife obviously doesn't have this added portability, so you're limited to where there's an available power outlet.
Blade Length – is Bigger Really Better?
Just like other kitchen knives, the length of the blade is also something you need to take into consideration when buying an electrical kitchen knife. Typically an 8-inch blade is a perfect length for an electric knife, and anything smaller than that is going to leave you struggling to carve or cut perfect uniformed slices.
If you're unsure about the length of the blade, don't worry as most of the best electric knives come with an assortment of blades for tackling different cutting tasks in the kitchen. So if you want to cut bread or frozen meat, there should be a knife that will work for you.
Electric Power Wattage
The power wattage of an automatic kitchen knife is often something overlooked and never taken into account when buying the best electric knife. This is something that needs careful consideration; if you buy a top rated kitchen knife that's under powered, you will struggle to cut anything at all. Try to look for an electric knife that offers more than 100-watts of power as this should be more than adequate to tackle the toughest of meats.
What is the Best Electric Knife to Buy?
When choosing an electric knife determining what you're likely to use it for the most in the kitchen will ultimately help you to decide on the best electric knife for your needs. For example, some electrical knives are better suited for filleting fish, while others come with some great attachments for cutting bread. Take a look at our electric knife roundup and pick one that best suits your needs.
Best Cordless Electric Knife
Rapala
When it comes to the best cordless electric knife, the Rapala doesn't disappoint, and this was also the best knife for cutting bread we found. With no power cords to get in the way, you can take this knife wherever you want. This electric knife features a super quiet long-lasting motor that utilizes an advanced airflow handle to help reduce heat buildup.
It comes supplied with two removable rechargeable battery packs, which is great because you can have one on charge while you are using the other, so you always have power when you need it. The Rapala comes with two supplied reciprocating style blades (a 6″ and 7-1/2″) and the whole electric knife set is packed neatly into a compact carry case for easy storage when not in use. Out of the various knives, we tested the Rapala was the best cordless electric knife we found.
Best Corded Electric Knife
Cuisinart CEK-40
The best corded electric knife has to go to the Cuisinart CEK-40, this is truly a powerhouse when it comes to carving and cutting anything from meat to bread or even the Thanksgiving Turkey, thanks to the two supplied knife blade attachments.
The Cuisinart CEK-40's 120-watt motor has enough power to make light work of anything it tackles. It was the best electric fish fillet knife, and out of all the knives we tested it came out on top when cutting frozen meats. Unlike the other Cuisinart electric knives, the CEK-40 is partnered with a stylish hardwood butcher's block cutting board that doubles up as the knife holder when not in use keeping your kitchen counter-top clutter free.
If you're a busy avid home cook, you will find yourself reaching for the Cuisinart CEK-40 time and time again for a multitude of kitchen prep tasks. Great value from a reputable, known knife company.
A Closer Look At The Cuisinart CEK-40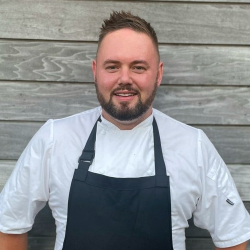 Latest posts by Andy Nash
(see all)