Kitchen Knife King is completely reader-supported. When you buy via the links on our site, we may earn an affiliate commission at no extra cost to you.
For the best steak knives to make the cut, they have to be sharp, well-balanced, comfortable to hold, and sturdy just like any good kitchen knife, but that's where the similarity ends. The steak knife is a very versatile knife, in fact, it can be used for much more than just cutting steak. If you've ever struggled to cut a tomato, try using a steak knife next time and come back and let us know how you got on.
When it comes to edge choice, there are typically three types of steak knives to buy: serrated, micro-serrated and straight. Each type of knife has its pros and cons, for example, serrated steak knives and even those with minuscule serrations will tend to mangle and tear meat and are harder to sharpen. Smooth-edged steak knives make cleaner less aggressive cuts on the meat, plus they can be easily sharpened, unlike serrated steak knives.
Like kitchen knives, steak knives vary in quality and price widely due to the quality of materials, manufacturing processes, and workmanship. In our steak knife review, we have taken this into account and made sure that each knife offers good value for your money. It doesn't matter if you're short on the pennies, below are listed some of the best steak knives for every budget.
Best Steak Knife Set To Purchase
Have you ever given steak knives as a wedding gift? Some steak knife sets come elegantly boxed making them the ideal gift. Depending on your budget, you can get some of the best steak knives for under $50, and if you have more to spend, you can get good steak knives for under $100. Let's take a closer look.
Best Steak Knives Under $100:

J.A. Henckels Contemporary 8-Piece Stainless Steel Steak Knife Set
J.A. Henckels kitchen knives are a popular choice with professional chefs, mainly due to their overall quality and edge retention. We went through a lot of steak knives at this price range, and the J.A. Henckels steak knives were the best value. If you're looking for a set of steak knives for under $100 for either home or as a wedding gift, this set is an excellent choice, and it comes in a desirable steak knife box complete with brass hinges and snap closures.
The fine serrations of the Henckels steak knives tend to tear the meat fibers rather than slice them but that's a small gripe as the sharp, thin, curved blades are well-balanced and perfect for precise cutting.
Like the Victorinox steak knives below these are also stamped from high-carbon stainless steel and not forged, to be honest, we were hard-pushed to find any steak knives for under $100 that were forged. Stamped knives do have their advantages, they're lighter than forged kitchen knives and tend to be cheaper. The handles are synthetic and have a classic look about them with the three-rivet styling with a full tang for extra strength.
Good quality, modern and affordable steak knives, these J.A. Henckels kitchen knives are a great buy!
Best Steak Knives Under $50:

Victorinox Swiss Classic 6-Piece Steak Knife Set
Victorinox are the inventors of the world-famous Swiss Army knife, so they know a thing or two when it comes to manufacturing cutlery. If you're on a tight budget and you're looking for the best steak knives for under $50 the Swiss craftsmen over at Victorinox have you covered with this budget steak knife set.
The Victorinox cutlery 6-piece steak knife set is perfect for those of you who don't want to mortgage their house for a set of expensive Shun steak knives but still want a set of knives that will not only look good on the table but can cut steak too!
What makes these steak knives cheaper than others is the fact that the knife blades have been stamped versus forged; which is how a lot of the more expensive steak knives are manufactured. That doesn't make this steak knife set bad it's just a way that Victorinox can keep the prices low.
Well-made, great price and durable, these Victorinox steak knives do not disappoint!
Best Overall Steak Knives For 2018
Below I have listed some of the best steak knife sets if money isn't an issue. Each of the knife sets varies in price ranging from $100 and up.
Shun Premier 4-Piece Steak Knife Set
If you're a professional chef or even if you know a thing or two about knives, then you already know that Shun knives are some of the best kitchen knives in the business. And when you get the words "Premier" and "Shun" in the same sentence you know it can only be a good thing.
Ok, I'll admit these steak knives aren't the cheapest but they are the best and as the saying goes "you get what you pay for" and that's precisely the case with these Shun steak knives. Let's take a closer look.
Like many other top-rated steak knives there's no need for the typical serrations on the Shun steak knife set, thanks to the unbelievably razor sharp, clean edge. Rather than tearing through the meat fibers, the Shun knives glide effortlessly through each cut minimizing the loss of juices and also ensuring you get the bite-sized cuts possible.
Not only are these premier steak knives extremely functional but they're easy on the eyes, thanks to the elegant, layered, hand-hammered Damascus steel blade for added functionality and beauty. The forged blade has been partnered with Pakkawood and resin handles, making them as nice to hold as they are beautiful to look at.
You'll want to cook steak every night with these steak knives; the best money can buy!
Wusthof Classic 6-Piece Steak Knife Set
Wusthof have over 200 years of knife craftsmanship under their belt, so when it comes to manufacturing the best steak knives they know what they're doing!
If you're wanting a high-end steak knife with a classic look and feel then the Wusthof steak knife set is for you. The undeniable sharpness and classic exquisite detailing make this one of the best steak knives for the money.
The Wusthof steak knives have been hand-forged and precisely calibrated using the lasted computer technologies for the perfect balance and razor-sharp edge that resists dulling. Each of the Wusthof steak knives features a characteristic upward curve that allows for precise cutting of the toughest of steaks. Just like the Shun steak knives, the Wusthof's are not serrated but smooth-edged.
Coming in at roughly $100 cheaper than the Shun steak knives these Wusthof's deserve your consideration. Very popular, average price!
Victorinox 6-Piece Wavy-Edge, Spear-Tip Steak Knife Set
If your old steak knives have seen better days and you are looking for a replacement set of high-quality steak knives you can't go wrong with this set by Victorinox. A lot of work has gone into the manufacture of each of these spear-tip steak knives. They've been conical ground and ice tempered for maximum edge retention and superior sharpness.
Each of the Victorinox wavy-edge steak knives also features a classic rosewood handle that's been ergonomically designed for excellent balance and also riveted for long-lasting durability. Like all wood handled knives, special care has to be taken when it comes to washing and cleaning to ensure longevity.
These steak knives are more akin to a surgeon's scalpel than a large steak knife, but if you want precision and razor sharpness then the Victorinox 6-piece wavy-edge, spear-tip knife is one of the best steak knives you can use to cut a steak!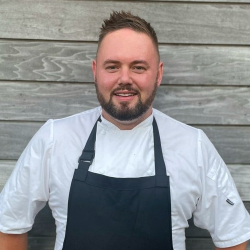 Latest posts by Andy Nash
(see all)